Earlier this year, I made the decision to be much more intentional with this blog. I started writing 2-3 times per week to see how leaders would respond. To my delight, there have been so many of you that have jumped on started to read! My desire is reach and develop as many church leaders as possible, and this platform is making it possible to share my thoughts week in and week out! It's been fun and I hope you've enjoyed reading as well.
With 2015 coming to a close and a lot of new readers added, I wanted to take a chance to list out some of the top from this past year so no one new to the blog would miss out on some of the "older" posts:
---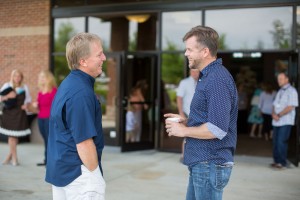 Whenever I hear someone say, "I'm helping my pastor get his ministry accomplished" I cringe just a little. I know that comes from a good heart, but there is a better and biblical principle still to be discovered.
---
We may have some things backwards when it comes to how to grow a church. We have learned much about leadership and growing churches over the last 25-30 years, and culture has changed. But sometimes I think we are trying too hard.
---
We celebrated a "Reverse Offering" during all the worship services this past weekend at 12Stone Church, and it was awesome! During the reverse offering we gave $100 to each attending household.
---
Church Members in a local church may seem outdated or unnecessary, but if led well, they can add great strength to your church.
---
Churches age and churches die. But intentional leadership can make that divine journey significantly longer and much more spiritually productive. There are several things you can do to help keep your church young, alive and vibrant even though the chronologic aging process continues.
---
A pastor called me recently and confessed his frustration with his senior pastor due to the lack of leadership. He appreciates his leader on a personal level, but believes he's under a leadership lid and the church will not realize it's potential. He simply asked, "What should I do?"
---
Why do you think people leave your church? People who are far from God or disenfranchised from the church aren't picky, but I think there are three big reasons they leave: Apologetic Expressions, Tentative Impressions, and Insincere Connections.